Student Paper - Vehicle Safety Enhancement Award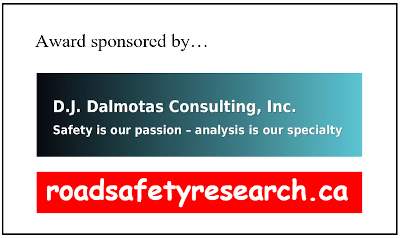 In addition to the competition for the best student papers submitted to the annual CARSP Conference, a special award is being offered to student papers that use Canadian motor vehicle collision data and/or Canadian motor vehicle crash test data to promote enhanced vehicle safety.
The basic form of the special award will be a cash prize of $1,000.00 to the winning student author, plus travel expenses to allow the student to attend the CARSP Conference and present their work.
In the case where the winning paper integrates both motor vehicle collision data and motor vehicle crash test data in order to highlight the potential for improved safety, the cash prize will be increased to $2,000.00 (plus conference-related travel expenses).
The specific criteria for the special award are as follows:
(1) Papers must be co-authored by a student registered at a Canadian university.
(2) Papers must be submitted for consideration for inclusion in the CARSP Conference (http://www.carsp.ca/carsp-conference/).
(3) To be eligible for the special award, papers must use Canadian motor vehicle collision data [1] and/or Canadian motor vehicle crash test data [2] as the basis for the analysis conducted and the conclusions reached.
(4) The research must use these data to identify potential improvements in motor vehicle safety, including, but not limited to: improvements in vehicle design and construction, enhancements to vehicle safety systems, or reductions in the occurrence or severity of injuries resulting from motor vehicle crashes.
(5) Eligible papers will be subject to review by a panel of subject matter experts who will decide which, if any, of the eligible submissions merits receiving the special award.
(6) For any particular conference, the special award may be limited to one paper among the eligible submissions that is judged to best satisfy the award criteria.
As with the regular student paper competition, the winning paper for this special award will form part of the conference proceedings. Should the conference not take place as envisaged in 2021, the paper will be published in a future issue of the Quarterly Journal of the Canadian Association of Road Safety Professionals.
The sponsors of this special award hope to encourage current students to identify sources of Canadian collision and crash test data, conduct research and analysis on such datasets, and disseminate new ideas on enhancements to motor vehicle safety through publication of the results of this process.
---
[1] Data sources may be any datasets related to real-world motor vehicle collisions that have occurred in any Canadian jurisdiction(s) including, but not limited to, police-reported collision data; in-depth collision investigation reports; municipal, provincial or territorial records; insurance files; and road user injury data
[2] Data sources may be records of any staged motor vehicle collisions conducted in Canada, these primarily consisting of crash tests performed by or on behalf of Transport Canada
Sponsoring Organizations
Canadian Association of Road Safety Professionals
http://www.carsp.ca
D.J. Dalmotas Consulting Inc.
https://www.djdsafety.com
Road Safety Research
https://www.roadsafetyresearch.ca